01 December 2004
Big Mike :
Professional Hood Shit pt. 6
Lloyd Banks - Fuck Shyne (Intro)
50 Cent - G Sixes
Styles P - Point Blank
Styles P - Time Is Money (Preview)
J Hood (D-Block) - Get Mine
Jadakiss, Styles P, Sheek Louch (Lox) - I Don't Give A Fuck
The Game - 6 Million Ways To Die
50 Cent - Shake That Thang
Cam'ron - Get Down
Nas - The Savage
The Game - Dead Wrong
Styles P - So Good, So Rite
Littles - I'm So Sorry
Prodigy f. Illa Ghee - Dragon On My Mind
Cam'ron f. Diplomats - It Could Happen
Nas - War
T.I. f. Lil Kim - Get Ya Shit 2Gether
Ludacris - Potion
Lord Tariq Freestyle
Bullet, Blaze, Gotti Freestyle
Flawless Freestyle
Jay Canal Freestyle
V.I.P. Freestyle
Mixtape available at bestmixtapes, djarson, mixent, mixtapeallstars, mixtapemob, mixtapemurder, mixunit, tapekingz
Big Mike & Ruff Ryder Records present :
The Redemption Vol. 1
Infared & Cross feat. Styles P. - Ghetto Children
Lox - I Don't Give A Fuck
Drag-On - We Bang
Jin - You Can't Breathe
Styles P. - 2 Gunz Up
2pac & Jadakiss - Niggas
Kartoon - Blood In The Streets
Infared - Neo's Shit
Flashy - Still Hungry
Pirate Freestyle (Ruff Ryders Reggaeton)
Infared & Cross feat. Kartoon & Z.I. - It's Murder
Styles P. - Leavin' The Game
Drag-On - We Are The Hood
Infared & Cross feat. Kartoon - I.C.U.
Flashy - My Destiny
Pirate - Double 'R' Wit Us
Kartoon - Stay Wit A Gat
"Ruff Ryders Is The Family" Outro
Mixtape available at bestmixtapes, djarson, mixent, mixtapeallstars, mixtapemob, mixtapemurder, mixunit, smashwax
DJ G-Spot :
Mixtape Radio Vol. 1
(Hosted by Alchemist)
Alchemist - Intro
Twizted Mind - Porntapes
Nas/Ludacris/Doug E Fresh - Virgo
Epik - I'm Right Here
Trey Songz - The King And The Prince
Jr Writer - Interlude
Cam'ron/Kanye - Down And Out
Slim Thug - Love This Game
Drastik - I'm Coming
Vice Raw - Shorty Wanna Ride (Freestyle)
Jae Millz/Xzibit - Interlude
The Game/Freddie P/Drastik - Higher (Exclusive Rmx)
Smilez & Southstar - How We Do (Freestyle)
50 Cent - Disco Inferno
Dem Franchize Boyz/Freeway/Young Gunz - Interlude
Angelous - Big Chips (Freestyle)
Ludacris - Potion
Capone/Nore/Cory Gunz/Dina Rae - Interlude
112/Ti - If I Can Hit
Dza - Bring Em Out (Freestyle)
Ghostface - Baggage Handlers
Jin - Bridging The Gap (Freestyle)
Ol Dirty Bastard/Bekay - Where Brooklyn At (Exclusive)
Joe Buddens - Roll Ya Backyard
Ludacris - Number One Spot
Royce 5'9/Nelly/Alchemist - Interlude
Cam'ron - Get Down
Buck - Do Me
Twizted Mind - Dime
Jus Mic - Hip Hop
Ti - Motivation
Cam'ron - Bubble Music
Mixtape available at bestmixtapes, globalmixtapes
03 December 2004
Lil Skrilla :
Pain & Glory
Intro
Nas - The Makings Of A Perfect Bitch
Stack Bundles Gravy Jae Hood - Freestyle
Ben Franklin - U Scared
Beanie Sigel Ft Melissa - Feel it In The Air
J.R. Writer Ft Juelz Santana Camron - Your Way
J-Hood-Who_Dat
Grafh - Get It
Fabolous - In My Hood
Ali Vegas - Stay Ali
Ashanti Ft Jinx Da Juvy - Only U Remix
Stimuli - Doin My Job
Ludacris - Potion
Lloyd Banks ft. Young Buck-Me Against You
Littles - Life After Death
JR Writer - Magic
Jinx Da Juvy Ft Juelz Santana - Freestyle
Jin - Freestyle
Mario Ft Jadakiss TI-LEt ME Love You Remix
Murda Mook- Pain I Felt
Oschino & Sparks ft Freeway - Don't Bring Em Around
Mense- Lonely Streets
Peedi Crakk - Freestyle
Sheek - Freestyle
Skyballa Ft Juelz Santana - Real Talk
Styles P - Freestyle
TI - Jackin 4 Beats
Trey Songz - Cheat On U
Mixtape available at globalmixtapes
04 December 2004
Balance - The Mixtape
Intro
Hustler
We Don't Stunt feat. Frontline
Freestyle #1
Rick Lee Drop
Fucc Wit Me feat. E-A-Ski
Curtains (final version)
Mad Idiot 10 Intro
Wake Up Show LIVE (Dec. '02) feat. Locksmith
Wake Up Show Intro feat. Crooked-I, Sly Boogie, F.A.B., Locksmith & Zion I
Mind Motion Drop
Freestyle #2
New Bay feat. New Bay
Mad Idiot 11 Intro
In Da Mornin' feat. Clyde Carson
Luv Me feat. Frontline
Outro
Mixtape available at mixunit
Southern Style DJ's present :
DJ Montay - Crunk City
Oomp Camp Freestyle
Gon Get You Crunk - Pastor Troy
Oh I Think They Like Like Me - Franchise/Lil Wayne
What Chu Gon Do - Lil Jon/MJG/Lil Scrappy
Break Bread - I-20
Air Forces - Young Jeezy
Let's Go - Trick Daddy
Burn It Down - Intoxicated
Like Me - D4L
Bruce Bruce Interlude
Real Big - Manny Fresh
You Don't Know Me - T.I./Bun B
I Smoke I Drank - Mr Magic
F*ck Dat Ni**a - Lil Jon/Ice Cube
What's Up - UTP/Juvenile
Buckin On Me - Intoxicated
305 Anthem - Pitbull
Foodstamp Interlude
We some Ridas - BMF
Find Me On 24's - Mr. Magic/Bun B/Mike Jones
For The Bay - Lil Wyte
Mixtape available at hotmixx
Mob Life Records present :
730 - Spit In Ya Face
Spit In Ya Face
You Got It Fu**ed Up
In My Hood
What Y'all Want Now
Click Clack
Spit In Ya Face Bitch
Nickle 2 Dime
Roll Up
Check Out 30's Melody
Kept On Rappin'
Story To Tell
Spit In Ya Face Bitch Pt. II
Fuckin' With A Champ
It's Not A Game
The Champ Is Here
We Doin' It
Spit In My Dads Face
Daddy
30 & Malta
Spendin' Chips
Spit In Ya Face Pt. II
Slang Crack
Still Crusin'
F**k You (Interlude)
F**k You (Feat. Tha Realest & Swoop G)
Mixtape available at mobliferecords
Gilla House presents :
BC4 - Straight Outta Lo-Cash - Ill At Will Mixtape Vol. 2
(Hosted by Redman & Guvmatic)
Lo-Cash Intro
I'm High As Fuck
Party People (Freestyle)
Turn Dat Shit Up
Deeper Cover (feat. Icarus & Saukrates)
One On One (feat. Saukrates)
Saukrates Season (feat. Saukrates)
Gilla Grind 4 Hoes (feat. Melanie & Icarus)
Made It (feat. Icarus)
Stand Up (feat. Icarus)
G.W. Bridge (feat. Govmattic)
Da Banger (feat. R. Kelly & Jay-Z)
Tear It Up (feat. Govmattic)
8-1/2 Mile (Freestyle)
Lo-Cash Outro
You're So Gangsta (feat. Fatimah) (Bonus Track)
Mixtape available at exclusivehiphop, sandboxautomatic
05 December 2004
DJ Uneek :
Animal Instinct - The Mixtape
Intro
Trajik - "Ain't No Biggie" Freestyle
50 Cent - Disco Inferno
Nas feat. Ludacris & Doug E. Fresh - Virgo
Omarian - Damn Shorty
That's Me - Youngbloodz & Young Buck
Jay-Z feat. Freeway & Ice City - Heat
Fabolous - Don't Stop, Won't Stop
Lloyd Banks - Bangers
Joe Budden - Roll Ya Backyard
Potent Freestyle
Mr. Reck Freestyle
Fabolous - Girls
Jim Jones feat. T.I. & Bun B. - End Of The Road
Tupac - I'm Comin' Home
Fabolous & Young Jeezy - Do The Damn Thing
Juelz Satana - S.A.N.T.A.N.A.
Ashanti - Only You
Jaheim feat. Beanie Sigel - The Truth
Usher feat. Lil' Jon & Ludacris - Lovers & Friends
Tweet feat. Missy Elliott
Mixtape available at cheapmixtape, mixunit
DJ Whoo Kid :
Sada Pop TV
(Hosted by Jamie Foxx)
Red Spyda & Jamie Foxx Skit
Game - The Bottom
2Pac ft. Nate Dogg - Black C.
Game - New Day
2Pac ft. Lil Scrappy - Bounce
Game ft. Heat - You Aint Gangsta
DJ Whoo Kid ft. Bump J - Bang Boom
Young Buck - Ride with Me
Young Buck & The YoungBloodz - Datz Me
Lil Scrappy - Dont' Let Me Get the Pump
DJ Whoo Kid ft. Snoop Dogg & Pretty Ugly - Fuckin With Us
Jamie Foxx - Queens Skit
Heat ft. Game - Around Here
Bump J ft. Rick James - Cant Stop Now [Produced by Kanye West]
Jamie Foxx - Avianne Outro
Extra Bonus Track - Jamie Foxx on Hot 97
Mixtape available at mixtapesone
06 December 2004
DJ Jon :
Pimp My Mixtape Vol. 1
(Hosted by Xzibit)
Dj Jon Intro
Xzibit Interlude
Ludacris - Potion
Joe Budden - Roll Your Backyard
50 Cent - Disco Inferno
2pac feat. G Unit - Loyal To The Game
Ol Dirty Bastard - Dirty Dirty
Ol Dirty Bastard - Pop Shots
Jae Millz - Streets Meltin
Xzibit Interlude
Xzibit - Hey Now (DJ Jon Blend)
Ol Dirty Bastard feat. Ghostface - Stand Up
112 feat. T.I. - If I Can Hit
Nas feat. AZ - Serious (unreleased)
Xzibit Interlude
2pac feat. Jadakiss - N.i.g.g.a
Cam'ron feat. Kanye - Down & Out
Kanye West - Never Gonna Stop Me (unreleased)
Live - Get Low
Jae Hood - Like This
Xzibit Interlude
Slim Thug feat. Eminem, 50 Cent, Dr. Dre (DJ Jon League Remix)
Game - New York Freestyle
Styles P - All The Way Freestyle
Xzibit Interlude
Xzibit feat. Busta Rhymes - Tough Guy
Cam'ron - Harlem Streets
Jadakiss - Freestyle
Beanie Sigel - Feel It In The Air
Lil Flip feat. Pharrell - Package Of Power
Method Man - Take The Heat (produced By Dr. Dre)
Freeway - Mello
Saj Supreme - Pimp My Mixtape Freestyle
Slim Thug feat. Pharell - Chicken Strip
Talib Kweli feat. Kardinal - Murderous
Xzibit Outro
Spotlight Section
Indangered Species - Where You Are
Indangered Species - We Need Dis Doe
Mixtape available at mixtapesusa
DJ Chuck T :
Down South Slangin Vol. 10 - The Bestseller For Every Bootlegger
DJ Chuck T & Collard Green Intro
Fired Up - Soulja Slim ft. Fiend and B.G. (Prod. By KLC)
Put Ya Money Up - Ludacris ft. 4 Eyez & DMX
White Meat - Lil' Jon & The Eastside Boyz ft. 8-Ball & MJG
Shyne On - Baby ft. Lil' Wayne
What It Do - T.I. ft. B.G.
Chicken Strip - Slim Thug ft. Pharell
Cross Dis Line - Wheatstraw
Dats Me - Youngbloodz ft. Young Buck
I Ain't A Killer - 334 Mobb ft. Bonecrusher & David Banner
Pass Out - Ludacris
Balla Baby (RMX) Chingy ft. Lil' Flip & Boozie
Nature Boy Rowe Commercial
Factory - Chopper City Boys ft. B.G.
Lay It Down - Mannie Fresh
Drop - Wes Fif
Money On The Wood - Trmndus & Slo Mo Sounds
Side Walk High - Quarta Ounce
Still Tippin' (RMX) - Mike Jones ft. Lil' KeKe and Big Pokey
Some Cut - Trillville
I Sho Will (RMX) - Lil' Wyte ft. Lil' Flip
Change 'Gon Come - Fatboy
Murda - Cutthroat Committy
F**K Dat Nigga - Spark Dawg
Wobble and Shake It - Tango ft. David Banner
Air Force Ones - Young Jeezy
Mixtape available at mixtapeallstars
Statik Selektah :
The Prophecy
(Hosted by Nas)
Nas Prophecy Introduction
Reporting Live From Central Park
"WiseGuys" feat. Styles P (world premier) ***
"Push It Up" (produced by D. Dot)
"Jonesin" Produced by & Featuring Scram Jones
"Serious" feat AZ
Nas Interlude
"Eastside Story" feat. The Ghost & B.I.G.
Nas For President Interlude
"Dead Prezidence"
Live From Central Park
"Virgo(FreshFest Remix)" feat. Ludacris, Doug E Fresh, & Slick Rick
Nas Interlude
"Stay Chizzl'ed 2005" featuring Prodigy (new lyrics)
"Tic Toc RMX" featuring Capone (produced by the Alchemist)
Alchemist Interlude
Interlude
"Affirmative Action 2004" featuring AZ & Cormega (new nas verse)
"Sosa VS The State" featuring AZ (produced by Dr Dre)
"Life's Still A Bitch" featuring AZ (produced by Mad-Sol)
Nas Interlude
"For The Love Of You" featuring The Isley Brothers
"The Unauthorized Unauthorized Biography of Rakim" (Golden Era Mix)
Faster Life" featuring Kool G Rap (80s blend)
No Love Lost" featuring JAY-Z (unreleased, circa 1998)
Thief's Theme (Dj Premier PopShots RMX)" feat. ODB & LowKey(UK)
You Know My Style(Showoff Records RMX)" ***
"One Plus One" featuring Large Proffesor (unreleased, circa '98)
"How We Live" featuring Termanology
"Imagine" featuring John Lennon
Nas Outro
Mixtape available at statik-selektah, mixtapesusa
DJ Chuck T :
Ride Wit.A.G.
(Hosted By E.Money Clips & Jade Foxx)
Jade Foxx Freestyle Intro
Disco Inferno - 50 Cent
Coon Picnic - Nas
Pushaman - Ness
In The Sixth - Emillio Money Clips
There Must Be A Way - Jade Foxx
The Dope Man - Cam'ron ft. Jim Jones
Thugs Get Lonely Too - 2Pac ft. Nate Dogg
Tough Guy - Xzibit ft. Busta Rhymes
The Truth '04 - Beanie Sigel ft. Jahiem
Aasim ft. Fat Joe - The Truth
Peggy Sue - Emillio Money Clips
Reach Out - Jade Foxx
Streets Melting Pot - Jae Millz ft. Swizz Beatz
Open Up This Casket (Prod. By Heatmakerz) - Emillio Money Clips
Step Ya Game Up (Not On Album) - Snoop Dogg ft. Daz
Mask Off - Styles P ft. Straws
Do That Shhh - Cashmere
Never Hold Me Back - Jade Foxx
Loyal To The Game - Tupac ft. G-Unit
Friend Of A Friend - Emillio Money Clips
Gasolina (RMX) - Nore ft. Daddy Yankee and Pitbull
Family Ties - Cam'ron ft. J.R. Writer and Hell Rell
I Wanna Tell Ya - Jade Foxx
Secrets - Emillio Money Clips
*Bonus Track* Numb Encore - Jay-Z and Linkin' Park
Mixtape available at mixtapeallstars
DJ Keyz & D-Block :
Heart of the Streets
Mario Feat. Jadakiss & T.I. - Let Me Love You (Remix)
Tweet Feat. Styles P. & Missy - Turn The Lights Off (Remix)
Jadakiss Feat. Christina Milian - Happy To Be Here
Xavier Aeon Feat. Jadakiss - Whutt
Jadakiss Feat. Mariah Carey - U Make Me Wanna
Ashanti Feat. J-Hood - Only You (Remix)
Mario Feat. J-Hood - Let Me Love You (Remix)
Kieran Feat. Jadakiss - R U Awake
Teedra Moses Feat. Jadakiss - You'll Never Find
Angie Stone Feat. Styles P. - Ghetto Love (Remix)
Sweet G Feat. Jadakiss - Games People Play (Remix)
Bling Dynasty Feat. Jadakiss & J-Hood - Fallen For You
Mashonda Feat. Jadakiss - Can't Leave The Block
Usher Feat. Jadakiss - Throwback (Remix)
Nita Feat. Jadakiss - Brand New Love
Rashad Feat. Jadakiss & Sheek - Sweet Misery (Remix)
Tiffany Villareal Feat. Sheek - Silent Gun
Mary J. Blige Feat. Jadakiss, Eve, Fabolous, Missy & Wylcef - Wake Up Everybody
Erykah Badu Feat. Sheek & J-Hood - Danger
Akon Feat. Styles P. - Locked Up
Donnell Jones Feat. Styles P. - Put Me Down (Remix)
Jadakiss & Sheek - J-A-D-A
Mixtape available at mixtapemurder, mixtapeallstars
07 December 2004
DJ Scream :
The Trillest In The South Vol. 2
Crime Mob - Crunk Inc.
Lil Jon - What They Gon Do (Screamix)
T.I. - You Don't Know Me
Boyz N Da Hood - Dem Boyz
Young Jeezy - Old School Chevys
Lil Jon feat. Gangsta Boo - Da Blow
Lil Weavah - Po It Up
Gucci Mane Speaks
UGK - Hogg In Tha Game
Pastor Troy - Gon Get Ya
Black Bill Gates Speaks
Trillville feat. 3-6 Mafia - Yeah
Lil Jon feat. Ludacris & Usher - Lovers N Friends
Lil Jon feat Oobie - One Night Stand
Lil Bootsie, Webbie, Bun B - Show Ya Tattoo
Mixtape available at iapstore
Xzibit & Dow Jones present :
Farenheit 12/9 - Armed & dangerous
Dow Jones & Xzibit Terror Alert
Xzibit ft. Krondon & Mitchy Slick-Klack (World Premier)
Xzibit-Hey Now
Xzibit ft. Snoop Dogg-Bitch Please
Xzibit ft. Jellyroll & Krondon-Saturday Night Live (World Premier) Prod. by Jellyroll
Xzibit ft E. Sermon & Tha Liks-Alkaholik
Xzibit ft. Ras Kass & Saafir-Harder (Prod. by Jellyroll)
Krondon ft. Phil Da Agony & Mitchy Slick-Size Aint Shit (World Premier)
Mitchy Slick-Ice Cream Muzik (World Premier)
Xzibit-Focus (Exclusive Dow Jones Blend)
Xzibit ft. Defari & Kokane-L.A. Niggaz
Xzibit ft. Jayo Felony & Method Man-Pussy Pop
Xzibit-Front 2 Back
Xzibit ft. Krondon & Phil Da Agony-Beware Of Us (World Premier) Prod. by DJ Kahlil
Xzibit ft. Kurupt, Mc Ren & Nate Dogg-The Hardest
Eddie Griffin-Bitch Azz Niggaz
Xzibit ft. Phil Da Agony, Krondon, Mitchy Slick & Jellyroll-Get Cha Bars Up (World Premier) Prod. by Jellyroll
Krondon ft. Mitchy Slick-Niggaz Know
Phil Da Agony-Long Time Ago (World Premier)
Xzibit ft. Krondon, Phil Da Agony & Mitchy Slick-Hood Life
Xzibit-Papparazzi
Xzibit-L.A. Times
Xzibit-X
Xzibit-Whats The Difference
Xzibit ft. Jellyroll-Muthaphuka (Prod. by Jellyroll)
Ras Kass-Check In
Xzibit ft. Ras Kass & Saafir-Bounce, Rock, Golden State (Prod. by Battlecat)
Get Ready For The War-Outro
Mixtape available at stronghouserecords
Red Diamond :
Street Bangers Vol. 2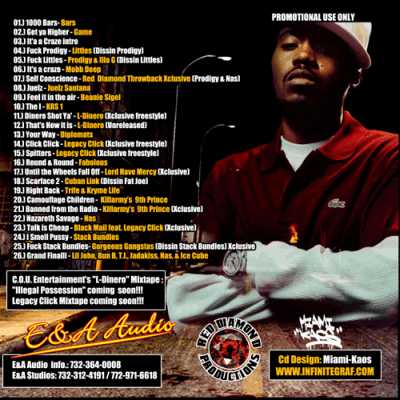 Mixtape available at mixtapebully